Dutch rail company voestalpine Track Solutions has achieved an automated, single view of rail assets with the deployment of an RFID-based solution relying on Confidex's ruggedized tags. With data, the company has an eye on the condition, status and location of its rolling stock; boosting safety as well as a ensuring the timely maintenance of components.
Challenges
The demand to efficiently access rail assets where they are needed.
Tracking maintenance efforts across thousands of assets.
Lack of centralized register for management of components
Need for affordable access to automated data.
Benefits
With the passive RAIN RFID solution voestalpine has a full view into the location and status of rail wagons and components.
Automatic identification of wheel defects based on sensor and RFID data.
Passive RFID provides cost reduction in comparison with active RFID system.
Voestalpine has now achieve a reliable system that does not depend on a power supply.
Voestalpine Track Solutions Netherlands B.V. supports infrastructure managers and contractors in the construction and maintenance of rail infrastructure. In this way it helps the railway infrastructure industry gain maximum network uptime by providing specialized assets and logistical services.
Voestalpine leverages multiple third-party providers of maintenance for its network of assets and assumes control over all maintenance efforts. Traditionally, management of assets was a manual task, so the company needed an automated way to manage the location and condition of assets. It had deployed an active RFID system that provided valuable data but was too high-cost for the large volume of tags needed, and each tag required an on-board power supply on the wagon.
The solution was a passive RAIN RFID system that could reliably capture data about each asset as it passed key points. Voestalpine worked with Confidex distributor Cisper Electronics B.V. and selected Confidex to provide passive, fail-proof transmission while being affordable and highly ruggedized for the challenging environment of the rail yard and tracks.
Voestalpine has attached a Confidex Ironside Classic passive RFID tag to each side of its cargo wagons. The company then mounted RAIN RFID readers along the track to identify each tagged wagon as it passed in either direction.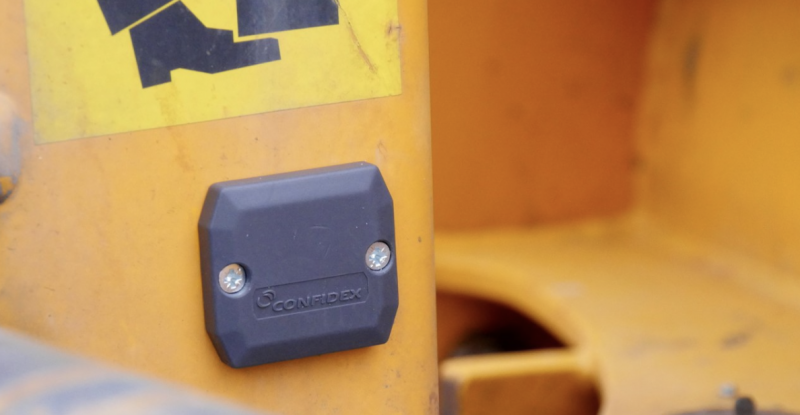 As the train passes the reader, a measurement of wheel friction on the track is linked with the RFID tag's unique ID. Voestalpine Track Solutions Netherlands B.V. developed a software solution that processes the data and presents the necessary information for intelligent planning as well as real-time access to the key information about component status and location. In fact, in the single centralized register, the company can view wheel condition, use and travel distance for each wagon. Tags have also been applied to insulated rail joints.
Confidex Ironside Classic is designed for the harshest of environments
The Confidex Ironside Classic was built to sustain the most rugged environments including rail yards and tracks. With a rubber surface material, and extreme mechanical durability, the Ironside Classic operates at broad range of temperatures, and is designed for excellent performance in all-weather environments as well as offering pressure and vibration resistance, and operational shock.
Article credit: Confidex