Thermal Transfer Label Printer | Direct Thermal Label Printer | Industrial Label Printer | Portable Label Printer
Label printers are essential for any business operations to print barcode stickers, item labels, medicine labels, shipping labels and more. Choose from our wide range of thermal transfer or direct thermal printers. We are authorised distributors of Polaroid, Zebra, TSC and Primera printers.
All the details that matter to your business are printed on a label! With all the popular brands and features, it's easy to find the perfect printer for your needs. Label printers are ideal for inventory management, identification, or any other labelling needs. With our range of brands, we make it easy to find the printer that's right for you.
Make Your Own Product Labels with Primera's LX500c Color Label Printer
The LX500c Color Label Printer is ideal for producing full-color labels with photo-quality images and bar codes. Print them when and where you need them – in quantities you can really use! Best of all, depending upon the quantity you print, the price per label will be significantly less than labels printed on flexo or offset.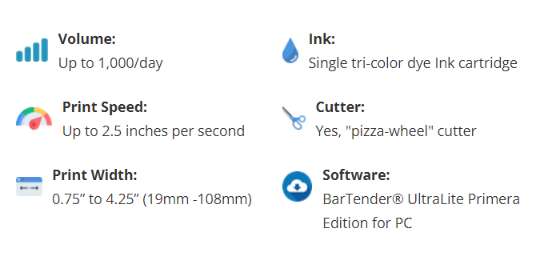 Make Color Labels For Your Products In Virtually Any Size Or Shape
LX610's printing and precision die-cutting are incorporated into one easy, time-saving step. Just import your design and select a cut format. Choose from standard die-cuts – such as squares, circles, or rectangles in any size, or a contour cut that automatically and precisely follows the outline of the image. You'll never need to order a custom die again.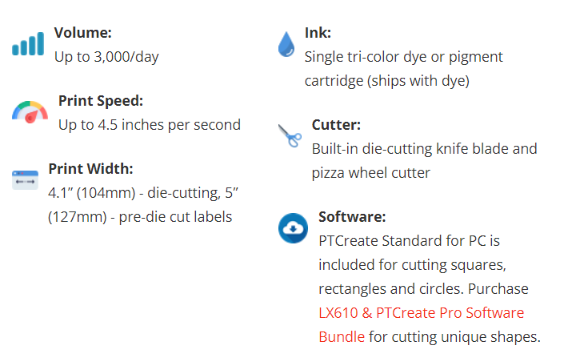 Primera's Fastest, Highest Quality, Full-Color Label Printer
LX910 is Primera's highest quality color label printer. Joining at the nexus of versatility and simplicity, its single cartridge solution for both pigment and dye allows users to print for a wider variety of applications while easing print operations. Printed labels can include photos, graphics, illustrations, and text - even high-resolution or two-dimensional barcodes. Print labels when and where you need them in just the quantities you can actually use.