The digital revolution known as industry 4.0 is in wide practice across the board at large companies and organizations. But has the supply chain caught up with it yet?
A recent Washington Post feature on supply chain inadequacies highlighted the need for greater collaboration between multiple business entities to ensure a more streamlined, smoother flow of goods and services. Part of this collaboration would result from introduction and increased use of machine learning, artificial intelligence and other digital tools. Using these digital products makes up part of 'supply chain 4.0'.
What is supply chain 4.0 and what does it mean to supply chains?
Customer demand is growing for greater speed in service, fulfillment and deliveries. Thus, organizations investing in industry 4.0 and supply chain practices and procedures can help meet these demands. The industry movement known as Supply Chain 4.0 embraces the tools, software and investments that organizations must enact to bring their supply chain technologies and infrastructure up to par with other companies.
Supply chain 4.0 incorporates using new technologies to crunch data streams across departments and organizations, to identify new opportunities, to showcase any difficulties in the process, and identify system wide trends in the making. By combining and integrating new tech, business organizations can get a broader view of internal and external data, while also bridging any departmental silos that may exist in organizations.
More than half of large global companies are expected by 2023 to use IoT, artificial intelligence, and advanced analytics in supply-chain operations, per a Gartner report. This movement toward digitizing supply chain processes will be overseen by humans, who will work collaboratively with the new technologies, per the report.
Moving forward with supply chain 4.0
While many organizations are moving toward digitizing supply chain processes and procedures, there are many who have not yet taken a leap of faith. But it's critical to move forward with supply chain 4.0. Getting to that point is where the rubber HAS to meet the road, so to speak.
Without a forward movement toward digitally optimizing your supply chain, you may hamper the ability to synchronize your systems into a cohesive whole. Plus, if your organization lags behind with automated technology, you may risk opportunities to work alongside more tech-driven partners, suppliers and 3rd party vendors.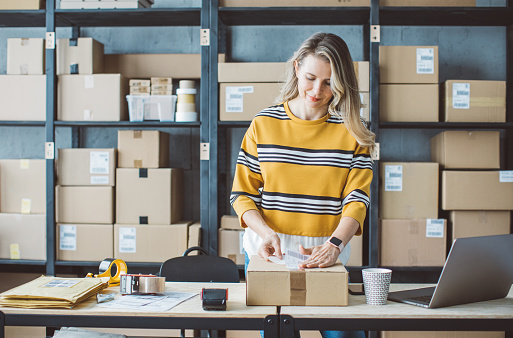 Tracking and labeling plays a big part in supply chain 4.0. Using a secure, reliable labeling system that integrates with your supply chain 4.0 practices is the step forward. You want to use a labeling solution that co-exists with your internal workflows and systems, to elevate the accuracy of your data management, and evolve with your ongoing business practices. Using a successful product labeling system will be a key part in your move toward digitizing supply chain processes in your organization.
Supply china 4.0 benefits
Your organization can gain distinct benefits when you transform your manual supply chain practices to Industry 4.0, supply chain 4.0 or whatever you want to call it internally (Operation Labeling Success?). Here are a few:
Stronger analytical insights
A focused, digitized supply chain provides stronger analytical insights. This visibility occurs because of greater communications and data transparency between manufacturers, warehouses, vendors, operations and distribution centers. The end result is greater operational efficiency, sharpened customer experiences, and increased revenues.
Increased financial gain
When organizations invest strategically in digitizing the supply chain, they expect to see a financial benefit. According to a 2019 McKinsey & Co. report, strong financial results can be the optimal result of smart supply chain investment. For example, the report cites a typical $10 billion organization could save about $85 million and grow earnings by up to $70 million EBT with a renewed focus on supply chain technologies.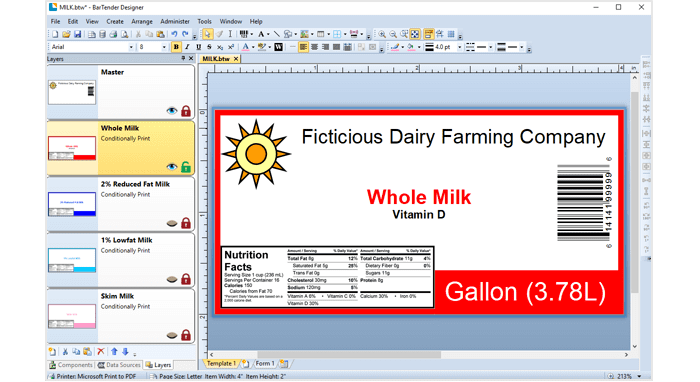 Improved efficiency
Moving from a paper-based supply chain to a digitized supply chain will improve your organization's efficiency at all levels of the chain. There is more accurate data, more transparency, and less pitfalls and errors. The use of electronic sensors and scans, along with BarTender barcode labeling sophistication, speeds up supply chain practices, by removing labor-intensive manual practices.
Technology counts
Digitizing supply chains in the era of supply chain 4.0 inevitably accounts for more accuracy in ordering and spending. Artificial intelligence models, machine learning processes and other forms of automated technology can drive rapid innovation to your business, resulting in more precise data, accurate shipments, all topped off with proper labeling for successful distribution.
Having these elements working together seamlessly with partners can provide the necessary impetus for a faster supply chain.
Supply chain 4.0 solutions
In any kind of industry, from pharmaceutical and medical devices, to retail, manufacturing and aerospace, BarTender labeling software can provide the up-to-date labeling solution for your business. Software tools integrate easily and efficiently with supply chain management and logistics processes in enterprise organizations, and can help digitize your company's labeling practices to meet the demands of Supply Chain 4.0.
Article by: Seagull/BarTender