MARKET: Retail e-commerce
APPLICATION: Shipping labels/invoices, dispatch management, centralized printer health-status monitoring
MODEL: ME240
Background: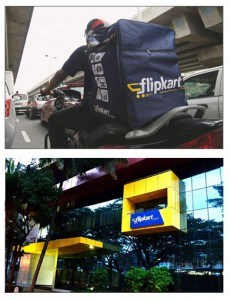 Flipkart, a major Indian e-commerce company that owns the 10 most popular websites in India, was having trouble tracking its increasingly diversified online product offering – thousands of items ranging from movies, music, games, computers and mobile phones to stationery, clothing, toys, health care products and home appliances. The company's old product-tracking system was unable to keep up with its rapidly expanding product line and high volume of customer orders.
Flipkart decided it needed to replace its aging product-labeling equipment with a reliable, easy-to-use barcode printer that would improve tracking efficiency and expedite goods delivery. The company issued a request for proposal for a barcode printer meeting the following requirements:
Barcode printer optimized for warehouse management and dispatch management
24 x 7 operation
Expandable printer memory
Ethernet connectivity for improved printer working-status traceability
Centralized monitoring of remote printers
Linux OS integration
203 dpi resolution logo printing (graphical) based on ZPL
Solution:
Flipkart decided to evaluate and test barcode printers from several manufacturers, including products from TSC and its Indian partner. The systems were graded based on reliability, durability, ease of use, programming support and service.
Working closely with Flipkart's senior management and technical team and financial team, TSC and its Indian partner were able to develop a solution – with the ME240 printer as the centerpiece – that met all of Flipkart's requirements, including the integration of the ME240 with Flipkart's required application and logo printing (a performance feature competitors were unable to offer).
TSC's solution included the following powerful performance features:
Performance and Monitoring Dashboard System (PMDS)
The TSC partner's PMDS software enables Flipkart to monitor ME240 printers from any location via their Internet IP Address or MAC Address.
Dashboard software constantly monitors printers, providing following notifications:
Number of labels printed (per day and cumulative totals)
Printer stoppages and duration
Open print head and duration
Label-gap sensing problem
Out of label
Date wise error
Date wise labels
Error List:

Carriage Open
No Paper
Paper Jam
No Ribbon
Printer Offline
Head Open
Automatic Information System
If there is a print head problem or other major error, the TSC partner's Automatic Information System automatically sends a Short Message Service (SMS) to a specified representative at Flipkart and to the partner's Division technical engineer or Division head. The software also will send a notification if there a problem (e.g. print head/ribbon finish/label finish) that lasts more than 20 minutes.
Dashboard Online Monitoring System
Using the TSC partner's Dashboard Online Monitoring System, an administrator sitting at a central location can view the status of ME240 printers installed around the globe. The web-based application connects printers directly via an Ethernet LAN Switch, extracting information from printers using their IP address or MAC identification and uploading software updates remotely.
TSC passes technical evaluation, wins competition
After undergoing a series of demonstration and application tests, the ME240 passed all of its technical evaluations and met all of the following Flipkart requirements:
Designed Dashboard to monitor all the 260 printers from all locations.
Deployed Dashboard to manage from a central location all 260 printers across multiple remote sites.
Fully integrated Linux.
Provided "out of the box" emulation of popular ZPL printer language, making it easy to print FlipKart's logo.
Maximized memory with 4 GB SD card.
Eliminated Flipkart's planned purchase of 280 laser printers
Helped design an information label that also serves as an invoice (see below).
Benefits:
Reduced costs
Lower error rates
Enhanced process efficiency
Real-time printer-status monitoring
Rapid error notification
Plug-and-play Zebra™ and Eltron™ language emulation